The March holidays are upon us once again! Although the COVID-19 situation has had most Singaporeans holed up in their homes for much of the past month, you might actually want to get out and do something fun this weekend. Look out for the exciting line-up of activities to keep the kids busy or to let your hair down after a long week!


Sakura Matsuri: Tale of the Peach Boy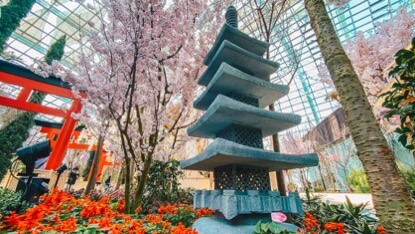 Can't fly to Japan to see the cherry blossoms? The good news is, you can get a glimpse of these elegant blooms right here in Singapore! Running for the month of March, Gardens By The Bay's Japanese themed flower show is inspired by Japanese folklore hero, Momotaro, the Peach Boy. Take a romantic walk down the flower road or snap away to capture lovely shots of the exquisite flowers. You can also dive into Japanese cultural activities like tea appreciationand be awed by taiko drum performances.


Date & Time: Until Mar 29 2020, 9 AM – 9 PM (Various timings for individual activities)
Location: Gardens By The Bay, 18 Marina Gardens Drive, Singapore 018953


Arts in Your Neighbourhood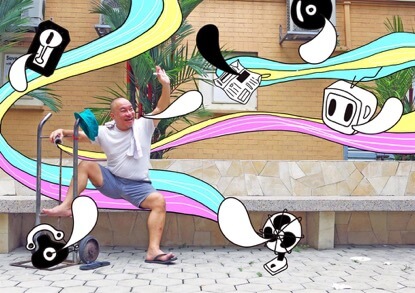 Here's an arts and cultural programme for all ages: Arts in Your Neighbourhood is the National Arts Council's initiative that aims to bring arts experiences to the heartlands. Shining the spotlight on the cosy town of Bukit Panjang, this year's affair takes you on a journey to see the neighbourhood through fresh lenses. Street art brings the urban landscape to live on art trail The Outer Space*, while interactive performance A Collection of Things is the first of its kind to celebrate the humble karangguni of our neighbourhoods. Ever wondered what happens if you combine a circus act with a bus? Find out with the Java Dance Theatre's dance and comedy-filled experiential bus tour on the Back of the Bus!


Date & Time: 12 – 29 Mar 2020, Various timings
Location: Various locations in Bukit Panjang


Good Dates / Bad Dates
On a date this weekend? Why not go meta at an exhibition on the subject of dates itself? Whether it's your first date or 10th anniversary, most of us can relate to terrible dating experiences, and that's what artist HAFI expounds upon in this solo exhibition. Supported by live visuals by Clarrot, the art show is a collection of visual narratives that are based on the artist's experiences of the woes and whims of modern dating. Come and relive these wonderfully awkward, cringey, and outright off-putting experiences, and hopefully, walk out feeling thankful that your date didn't go down the same route.


Date & Time: Until 15 March 2020, 10 AM – 6 PM
Location: Oxley Bizhub, 65 Ubi Road 1, #04-32, Singapore 408726


Jameson x Trouble Brewing: The Fearless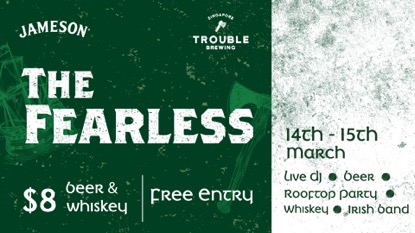 If you're looking for a couple of drinks this weekend, this party is sure to whet your appetite. Local brewery Trouble Brewing and Irish whiskey label Jameson have joined hands to make this St Patrick's Day rooftop party happen. Featuring an exclusive mixture dubbed the Trouble Maker, the event doubles up as a campaign celebrating boldness, risk-taking, and unconventionality in the pursuit of their passions, hence the name 'The Fearless'. Get pumped with drinks, food, games, and live music – and if you're still up for some more, there's an afterparty with an Irish live band Broken Pokers right after.


Date & Time: 14 – 15 March 2020, 4 PM – 10:30 PM (Afterparty starts at 10:30 PM)
Location: Rooftop above 79 After Dark, 79 Circular Road Singapore 049433 (Afterparty takes place in 79 After Dark)


Pop-up Pantry: A Beauty Swap Launch Special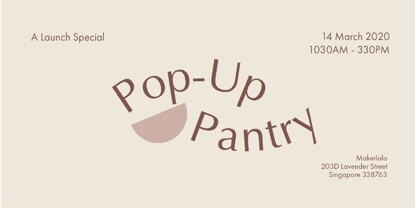 For those who walk and talk fashion and beauty, here's one pop-up market not to be missed! Hop on the zero-waste beauty movement by picking up some pre-loved beauty products, or try your hands at the various sustainable and ethical cosmetics and food here. You can make your own cruelty-free nail polish, mix your own essential oil blend, munch guilt-free on vegan cupcakes, get a taste of organic cocktails, and more! Register for free to attend at one of their 3 available timeslots.


Date & Time: 14 March 2020, 10:30 AM – 12 PM, 12:15 PM – 1:45 PM, 2 PM – 3:30 PM
Location: Makerlala, 203D Lavender Street, Singapore 338763


With so many wonderful activities going down this weekend, you'll want to make sure you enjoy it with a worry-free mind. Don't let life's unexpected turns and financial woes put a damper on your plans. If you are in need of a personal loan or business loan in Singapore to give you peace of mind, don't hesitate to give us a call at QuickLoan Pte Ltd at +65 6223 1788 or visit our office in Tanjong Pagar!