The weekend is finally here! There's nothing better than immersing in engaging activities to decompress! If you're not sure where to start, worry not, we have a list of 5 events that are sure to give you your well-deserved fun!
Disclaimer: Due to COVID-19, we recommend readers to check with the relevant organisers to ensure the event has not been deferred or postponed. Do take note of the safety measures implemented by the organisers.


Embodiment: A Malaysian Group Exhibition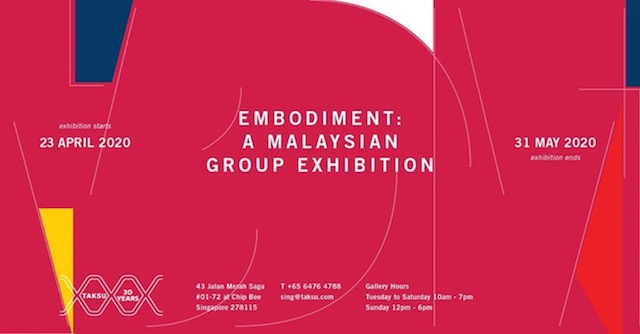 For all art enthusiasts, here's an art exhibition that's guaranteed to spark your interest. Embodiment: A Malaysian Group Exhibition features works from 14 Malaysian artists of diverse backgrounds. Displaying works of different mediums, ranging from the abstract, figurative to sculptural work, the exhibition hopes to share and foster dialogue revolving around Malaysia's developing contemporary art scene. Marvel at the Malaysian artists' exquisite artistry and experience the flow of energy forged by their works!
Due to the ongoing COVID-19 situation in Singapore, TAKSU Galleries has decided against hosting an opening reception for this exhibition. However, the gallery will still operate per its opening hours. Viewers are advised to maintain their hygiene at all times. Alternatively, you can head to their website and view their available artwork online! Nothing beats looking at the physical artwork but to safeguard public safety, do exercise social responsibility!


Date & Time: 23 April – 31 April 2020 | Closed on Mondays and Public Holidays), 10AM – 7PM
Location: 43 Jalan Merah Saga, #01-72, Singapore 278115


Love Is In The Air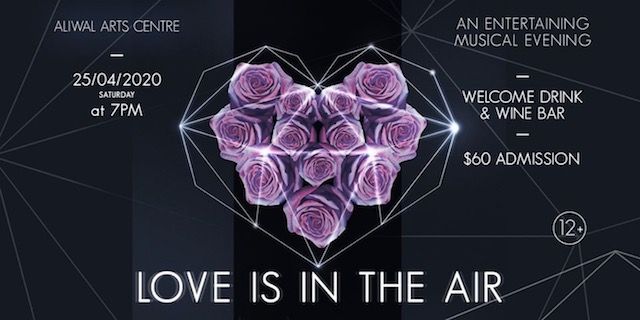 Romance may have peaked in February but that doesn't mean it dies within the next few months. Love Is In The Air is a testament to that! Bring your date along and get entertained by a musical ensemble that will enthral you with a vintage cabaret rendition of some of the best classic love songs. Revisit these popular hits with songs such as "Sole Mio", "Besame Mucho" and "I Will Wait For You". With talented musicians giving you an exquisite live performance and a wine bar (cash payable), your Saturday night is guaranteed to be a memorable one for you and your partner! Do remember to maintain your hygiene, lest your night of fun is spoilt! Otherwise, have fun vibing to soulful, musical theatre and jazz music all night long!


Date & Time: 25 April 2020, 7PM – 9PM
Location: Aliwal Arts Centre, 28 Aliwal Street, Singapore 199918


Culinary Journey Of A Hundred Feet – 5D Dining Experience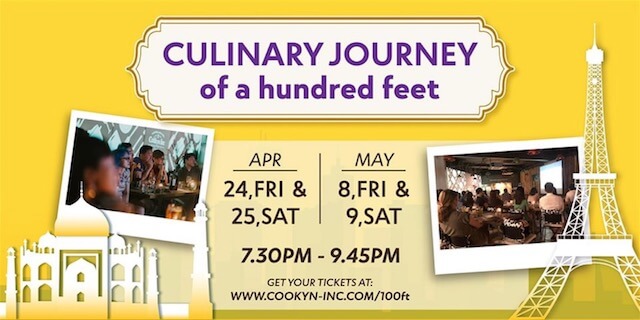 If you wish to fully immerse in a gastronomical experience, the Culinary Journey Of A Hundred Feet is just for you. This intriguing 8-course dinner will engage all your five senses by introducing you to delectable French and Indian cuisine. Not only will you indulge your sense of taste and smell with the aromatic spices and sauces, but you will also be watching a film that is set at a quaint French village of Saint-Antonin.
To prevent the spread of COVID-19, Cookyn Inc has placed several safety precautions. You will have to arrive 15 minutes early before its commencement for temperature checks and declare your travel and health history. All tables are sanitised after each screening. Since each screening is limited to a maximum of 18 people, be sure to get your tickets fast! Grab your friends for a memorable dining experience!


Date & Time: 24 April – 9 May 2020, 7:30PM – 10PM
Location: Hometeam NS-JOM Clubhouse, 31 Ah Hood Road, #01-04, Singapore 329979


Getting To Know Me Getting To Know You With Points Of You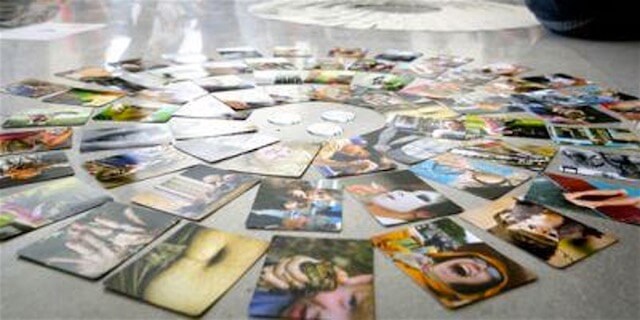 Having been developed more than a decade ago, Points Of You is a global game of connection, communication and creativity. By using photos, music and storytelling as a safe medium for reflection, participants are encouraged to explore and share their feelings and life experiences with each other. The photo cards are later exchanged to be interpreted and re-interpreted, the projection provides a new perspective and insights. The interaction will be conducted in a safe space where inclusivity and non-judgement are placed as priorities. If you wish to enjoy genuine conversation with a dash of vulnerability, Points Of You is perfect for you!


Date & Time: 24 April 2020, 6:30PM – 10PM
Location: Crane Club, 46 Kim Yam Road, #01-06, Singapore 239351


Gardens Within Series: Tending Your Inner Nature Workshop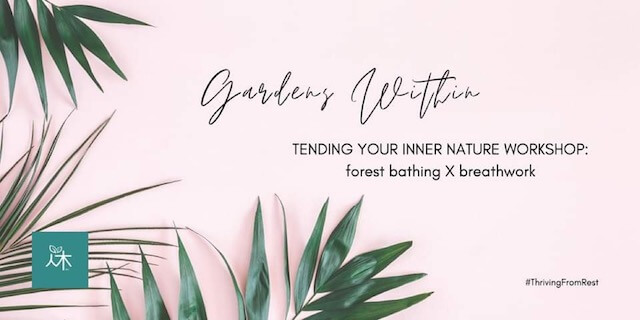 Practising mindfulness is easier said than done, especially in this day and age. To help you practice mindfulness and your dormant self-healing mechanisms, Xiu Nature Connection has partnered with Bliss Shala to establish the first workshop from their Gardens Within series: Tending Your Inner Nature Workshop.
In this workshop, you'll be partaking in intentional breathwork and forest bathing. Apart from the obvious mental and spiritual benefits, you'd also enjoy health benefits! Despite being physically distant, camaraderie is forged with a union connection with nature and breath. Since the workshop is limited to a maximum of 8 participants, be quick to reserve a spot to practice self wellness once again.


Date & Time: 25 April 2020, 3PM – 5PM
Location: Bliss Shala Yoga Studio, Ang Mo Kio Avenue 5, Singapore 560648


Give yourself a chance to rewind during such a tensed and stressful time. If you require fast cash, head down to QuickLoan Pte Ltd! We are a licensed money lender in Tanjong Pagar that strives to help you out in any financially tight situations. Our office doors are open to you if you need quick loans or any other services such as business loans!
Call us at 6223 1788 or visit our website at www.quickloan.com.sg today!