Licensed money lenders in Singapore can provide a range of financial solutions to help you achieve your goals. With competitive interest rates and flexible repayment terms, they offer a variety of loan options, including personal loans, business loans, and payday loans.
As licensed entities, money lenders in Singapore are strictly regulated by the Registry of Moneylenders, ensuring that borrowers are treated ethically and fairly. Unlike traditional banks, they provide quick and easy access to funds, without the need for extensive documentation and stringent credit checks.
Whether you are a Singaporean citizen, foreigner, or self-employed individual, licensed money lenders can provide the financial support you need in urgent situations. Their low interest rates, fast approval processes, and more lenient criteria make them a reliable and accessible source of financial assistance.
If you are considering a loan from a licensed money lender, it is important to identify a reputable and trustworthy lender. In this article, we will guide you through the process of identifying licensed lenders, and provide you with the information you need to make an informed decision. Additionally, we'll explain what to expect when you apply for a loan with a licensed money lender, so you can feel confident and secure throughout the process.
What Services Does a Licensed Money Lender Provide?
As a reliable and trustworthy source of financial assistance, a licensed money lender in Singapore can provide safe and legal cash loans to citizens, PRs, and foreigners. As a registered entity with the Registry of Moneylenders, licensed money lenders in Singapore are bound by strict regulations governing their operations and services, ensuring that borrowers receive ethical and fair treatment. Whether you need fast cash to cover urgent expenses or want to pursue your life goals, a licensed money lender can offer flexible loan options and competitive interest rates to help you meet your financial needs.
Licensed money lenders offer secured and unsecured loans for a range of financial needs. At Quick Loan, you can access fast and affordable cash funds through our selection of loans for personal, business and miscellaneous financing. We also offer loans to help cover the costs of big-ticket items such as medical bills.
As the best licensed money lender in Singapore, Quick Loan provides low interest rates and tailored repayment plans to help protect your peace of mind. We also don't believe in keeping our borrowers waiting—our speedy application process will let you receive your funds within 30 minutes.
Get safe and affordable financial assistance from Quick Loan today.
Before Applying for a Loan With a Licensed Money Lender in Singapore…
Research and Decide on a Loan Type
When considering applying for a loan, it is important to assess your financial situation to determine which type of loan is most suitable for your needs. If you find yourself in need of funds to cover expenses until your next paycheck, a short term payday loan could be the perfect choice for you. These loans typically have a shorter repayment period and can be an effective solution for managing short term financial needs.
Perhaps you're looking at a more significant financial commitment instead. In this case, loans for big-ticket items such as an education loan or home renovation loan are ideal options.
Check the Registry of Moneylenders
All licensed money lenders in Singapore are listed in the Registry of Moneylenders. Be sure that your chosen money lender appears on the registry—this ensures that you're dealing with a licensed lender.
Evaluate Your Loan Repayment Ability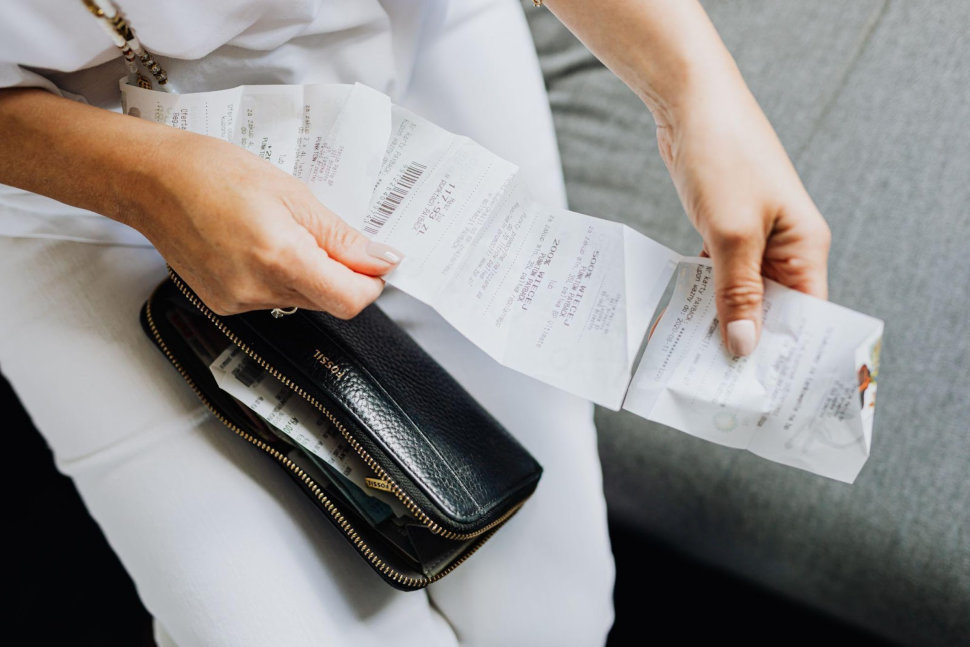 Consider your monthly income, expenses, savings, and any existing debt or potential financial commitments. Based on this information, be sure to borrow only as much as you need and can afford to repay.
Check Your Eligibility
The maximum loan amount you're eligible to take from a licensed money lender in Singapore will depend on your income and citizenship status.
Singaporeans and Permanent Residents (PRs) making under $20,000 a year may take out loans worth up to $3,000. Foreigners in the same income bracket can be eligible for loans worth up to $500 or $3,000.
Additionally, Singaporean, PR and foreign borrowers making over $20,000 per year qualify for loans up to six times their monthly income.
Consider the Interest Rates and Fees
As you shop around for the best loan terms, keep in mind that licensed money lenders in Singapore can only charge interest rates and late interest fees of up to 4% per month. They're also subject to caps on other fees, which we'll dive into a little later.
Prepare the Required Documents
Most licensed money lenders will require a standard set of supporting documents in their loan application process. These include:
NRIC
SingPass
Payslips
Proof of residency
Bank token
Passport, S Pass/Work Permit, staff card, and employment contract (for foreign applicants)
Ready to take a cash loan with Quick Loan? As the best licensed money lender in Singapore, we'll help you find the right loan for your needs. Get started today and enjoy low interest rates with a repayment plan tailored to your salary.
How Much Can I Borrow From a Licensed Money Lender?
The table below sets out the maximum loan amount you can borrow from licensed money lenders in Singapore. The limits are based on your annual income level and citizenship status.
Your Annual Income
Singaporeans and Permanent Residents
Foreigners Living in Singapore
Under $10,000
Up to $3,000
Up to $500
From $10,000 to less than $20,000
Up to $3,000
$20,000 or more
Up to 6x your monthly income
Up to 6x your monthly income
If you're a non-Singaporean applicant, you can read our guide to obtaining cash loans in Singapore as a foreigner for more information.
What Interest Rates and Fees Can a Licensed Money Lender Charge?
A licensed money lender in Singapore must follow regulations set by the Moneylenders Act. These rules limit the interest rate, late fees and other charges a licensed lender can impose on borrowers.
Here are the charges you can expect when borrowing from a licensed money lender in Singapore:
An interest rate no higher than 4% per month
Late interest charges no higher than 4% per month
Late repayment fees capped at $60 per month
Administrative fees not exceeding 10% of the loan principal granted
Any court-ordered legal costs in the case of a successful loan recovery claim by the lender
The total charges from your lender, including interest, late interest, late fees and administrative fees cannot be higher than the principal of your loan.
What Should I do After My Loan is Approved?
Once you've signed your loan agreement and received the loan from your money lender, note the following steps to ensure a smooth repayment process.
You'll be expected to pay the necessary administrative fees to your lender. As stated previously, this fee cannot be higher than 10% of your loan principal.
You should also keep copies of important documents, including
Your loan contract
Statements of account (SOA)
All payment receipts
Your loan contract will help you keep track of your loan terms, while receipts and statements of account provide proof of every payment you make towards your loan.
Finally, be sure to pay every instalment by its due date. Timely payments will help you avoid accumulating interest and accruing late fees.
What to Do if You're Unable to Keep Up With Payments
If you find yourself in a situation where you're unable to pay back a loan, there are some solutions that can help you get back on track.
1. Request for an Extension
Speak to your lender about your financial situation and negotiate a new repayment plan that better suits your circumstances. Licensed money lenders in Singapore are ready to work with you to restructure your debt when you're in financial difficulties.
Paying lower monthly instalments over a longer period might make it easier for you to meet your debt obligations and ease your financial burden.
2. Consult a Credit Counselling Service
You can approach several social service agencies in Singapore that assist consumers with debt problems. Non-profit organisations like Credit Counselling Singapore (CCS) can assist you through debt counselling and financial management advice. They can even help you negotiate a repayment plan with creditors.
The Debt Management Programme (DMP) facilitated by CSS is an invaluable resource for borrowers struggling to repay loans. This debt restructuring and repayment plan will assist you by negotiating and arranging a repayment plan with your money lender.
Once CSS has assessed your repayment capacity and deems you eligible, they'll draw up a proposed DMP schedule for you to repay your debt to creditors at a lower interest rate over an extended period.
Note that your status under the DMP will be reflected in your credit report throughout the repayment period, but will be cleared once your debt is repaid. Additionally, a Debt Servicing and Support team (DSS) will be on hand throughout the process to offer support, advice and workshops on building your financial knowledge.
3. File for Bankruptcy/Debt Repayment Scheme (DRS)
Filing for bankruptcy is always advised as a last resort since it will negatively impact a borrower's credit report.
This method will initiate a Debt Repayment Scheme (DRS) application. DRS is a pre-bankruptcy programme designed to help borrowers clear their debt and put bankruptcy proceedings on hold.
Debt Repayment Scheme (DRS)
You must meet a set of criteria to qualify for the scheme. These criteria include the requirement that your total liabilities do not exceed $150,000 and that you earn a regular income.
Once the Official Assignee (OA) has decided that you qualify for the DRS, a Debt Repayment Plan (DRP) will be created for you.
During your time as a debtor under the DRS, you must carry out various duties, including attending meetings when required by the OA.
You must clear your total outstanding debt in five years or less.
If you fail to clear your debt under the DRS terms or don't qualify for the scheme upon application, bankruptcy proceedings against you will continue in court.
How Can I Tell if a Money Lender is Licensed?
Learning to differentiate licensed lenders from their unlicensed counterparts is essential. Here are some ways to check if a money lender is licensed.
Refer to the Registry of Moneylenders
The Registry of Moneylenders lists all licensed lenders operating in Singapore, and is the best way to ensure you're dealing with a legitimate lender. Use this list to help you avoid unlicensed lenders and loan sharks when taking out cash loans.
Note the Lender's Advertising Practices
By law, licensed money lenders can only advertise their services through these specific platforms:
Their own websites
In business or consumer directories
Within or directly outside their business premises
They are not allowed to advertise their services through channels such as text messaging or social media.
Look Into the Interest Rate and Other Fees
The Moneylenders Act places limits on how much a licensed money lender can charge its borrowers. Licensed money lenders in Singapore can only charge interest rates of up to 4% per month, late fees of no more than $60 and administrative fees of up to 10% of the loan value.
Check the Lender's Loan Approval Process
All licensed money lenders must conduct face-to-face verification with applicants before approving and disbursing loans. That's why every licensed money lender must have a physical address you can visit to finalise your loan application process.
Be wary of a money lender that promises fully remote loan approval and disbursal and can't provide you with a legitimate physical address.
Enquire About the Lender's Documentation Practices
Licensed money lenders will provide you with a copy of your loan contract after the agreement has been signed. Additionally, they will issue payment receipts (within 7 working days after you have made payment) and statements of account (SOA) throughout the loan repayment process.
How to Obtain a Loan From Quick Loan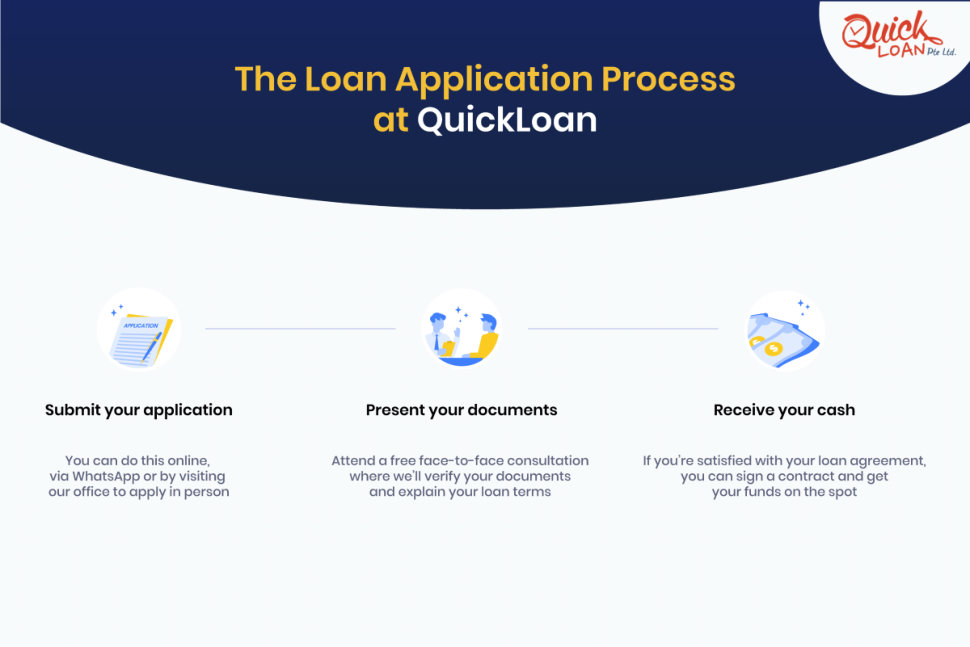 As the best money lender in Singapore, Quick Loan is proud to offer affordable and accessible cash loans through an accelerated, hassle-free process.
To be eligible for a loan with us, you must be at least 18 years old with a minimum salary of $1,800. We also require a set of supporting documents in order to evaluate and process your application.
For Singaporeans/PRs
NRIC
SingPass
Proof of residence (e.g. tenancy agreement or phone bill/utility bill)
Payslips for the last three months
Bank token
For Foreigners
S Pass / Employment Pass / Work Permit with a minimum 6-month validity
Passport
Residence information (e.g. tenancy agreement or phone bill/utility bill)
Payslips for the last three months
Bank token
Employment contract
Staff card
1. Submit Your Application
Get started through an online application on our website or via WhatsApp. You can even drop by our physical office to kickstart your loan application.
After you've submitted your online application, our friendly customer service team will contact you to schedule a free consultation appointment at your convenience.
2. Attend Free Consultation
During your appointment with us, you'll need to provide all the necessary supporting documents for your application.
Your dedicated loan officer will carefully explain the details of your loan contract, interest rate and other vital information.
3. Receive Your Funds
Once you're satisfied with the conditions of your loan, you can sign the agreement and get your cash on the spot.
Here at Quick Loan, we're always prepared to lend a hand in your financial journey. Start your application here!
Secure the Funds You Need From Singapore's Best Money Lender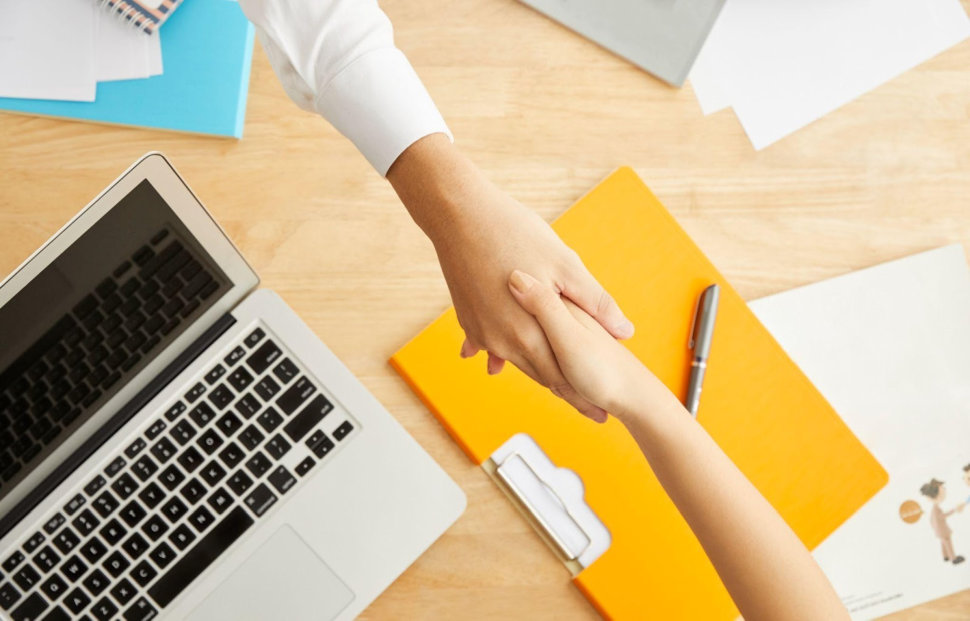 We're ready to support your financial needs with our fast and easy cash loan options. From personal loans to bridging loans, we offer low interest rates and affordable repayment plans tailored to your unique situation. Access the help you need today with peace of mind guaranteed!