Life can present unexpected financial challenges, and sometimes your savings may not be enough to cover urgent expenses such as medical bills or unforeseen home repairs. Fortunately, licensed money lenders in Singapore can offer you fast and affordable cash loans to help you manage your finances in times of need.
At our licensed money lending company, we provide flexible and hassle-free cash loans that are tailored to meet your specific financial needs. In this informative article, we will guide you through the loan application process and help you prepare for your loan application. We will also explore the benefits of working with a licensed money lender in Singapore, and how we can provide you with the financial support you need.
What is a Licensed Money Lender?
A licensed money lender is a private financial loan institution authorized by the government to provide cash loans to individuals and businesses. Unlike traditional banks, licensed money lenders offer faster loan processing times, more lenient eligibility requirements, and a wider range of loan options.
In order to be licensed in Singapore, money lenders must be verified by the Registry of Moneylenders. You can always refer to the List of Licensed Money Lenders in Singapore to ensure that you're dealing with a legitimate lender.
Licensed money lenders like Quick Loan have speedy approval times for loan applications and more lenient criteria as compared to banks. They also offer low interest rates with flexible repayment plans to suit your circumstances.
Why Borrow From a Licensed Money Lender?
There are several advantages of borrowing from licensed money lenders over banks or financial institutions .
Speedy Application Process: Licensed money lenders have a much faster and more streamlined application process. At Quick Loan, for example, you can expect to get your cash within 30 minutes!
Less Stringent Criteria: Compared to banks, licensed money lenders have less strict requirements and are more flexible with certain conditions, such as the borrower's credit history.
More Suitable for Fast Cash Loans: Licensed money lenders are a better option when you're looking for urgent cash quickly. They also provide shorter loan tenures than what banks typically offer, which means you'll incur less interest.
We're a licensed money lender in Singapore that can provide you with affordable loans through flexible payment plans catered to your salary and financial needs. Access fast and safe personal loans from Quick Loan today in just three steps—get started by sending us an application, and look forward to receiving your cash within 30 minutes!
3 Things to Consider Before Taking a Loan With Licensed Money Lenders
Taking out a loan of any amount is a significant commitment. Here are some things to keep in mind if you're planning to borrow from a licensed money lender in Singapore.
Interest Rate
The interest rate is the fee charged by the lender on top of the borrowed amount. At Quick Loan, we understand that interest rates can greatly impact the affordability of a loan, which is why we keep our rates low to ensure easier access to funds.
As a licensed money lender, we prioritize transparency and fairness in all our loan transactions. You can rest assured that we will never charge more than 4% interest on any loan. Our commitment to providing affordable loans means that you can take out a loan with us with confidence, knowing that you are getting the best deal possible.
To help you estimate your loan repayments and determine the affordability of our loan options, we have provided a convenient loan calculator on our website. With just a few simple inputs, you can get an idea of your monthly repayments and choose a loan that best suits your needs and budget.
Try out our loan calculator today to see how we can help you access the funds you need at a competitive interest rate.
Loan Tenure
Loan tenure refers to the duration of time during which a borrower is required to make regular payments towards repaying the loan amount, along with the applicable interest charges. The loan tenure is typically agreed upon between the borrower and the lender at the time of loan approval and is usually expressed in months.
The length of the loan tenure is influenced by various factors such as the amount borrowed, the borrower's income, the interest rate, and the type of loan. A shorter loan tenure generally means higher monthly payments, but also results in a lower overall interest paid over the life of the loan. On the other hand, a longer loan tenure results in lower monthly payments, but a higher overall interest cost.
Affordability
Before you take out a loan, consider your monthly income, expenses and savings, plus any existing debt and future financial commitments. Based on how much money you need to borrow, you'll have a clearer idea of whether your current lifestyle allows you to fully commit to monthly repayments.
Learn more about preparing for a loan application with our guide to obtaining personal loans.
How Much Can a Licensed Money Lender in Singapore Charge Me?
Licensed money lenders can only charge a maximum of 4% interest per month. This limit applies to secured and unsecured loans, regardless of the borrower's income level.
The 4% interest cap also applies to late interest fees you may incur, and can only be charged on the amount that is paid late. Your lender cannot charge late interest fees on outstanding amounts that are not yet due for repayment. For example, you've taken a loan of $10,000 but failed to pay your first instalment of $2,000. Your money lender can charge the late interest on the $2,000 but not on the remaining $8,000 which is not due yet.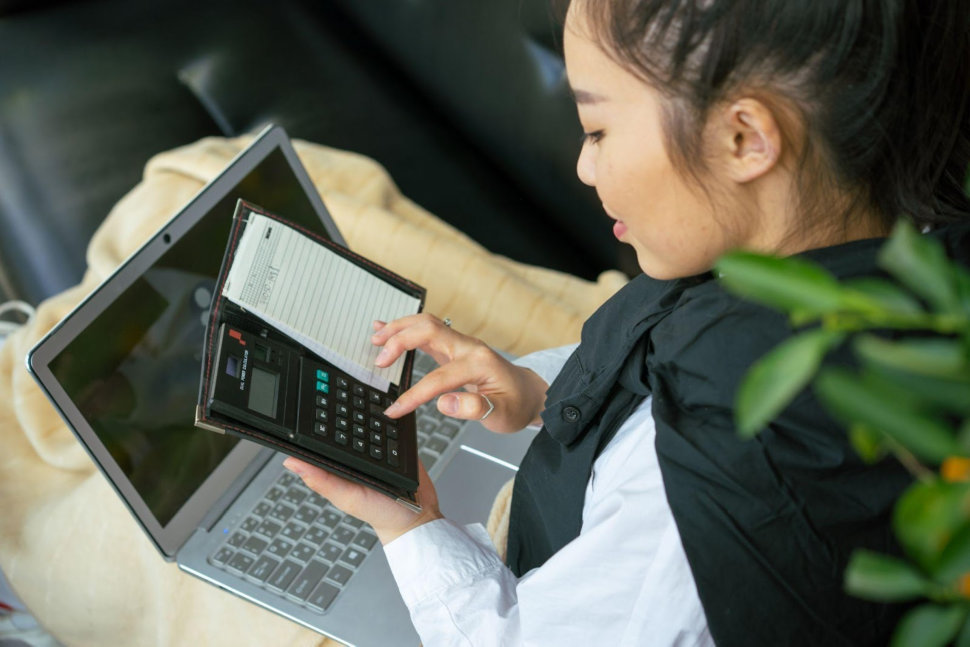 Other fees and expenses money lenders in Singapore are allowed to charge are
A fee of no more than $60 for every month of late repayments
A fee of no more than 10% of the principal of the loan when that loan is granted
Court-ordered legal costs in the event of a successful loan recovery claim by the money lender
Additionally, the total charges you can expect from a money lender on any loan cannot cost more than the principal of that loan. In other words, if you take a loan of $10,000, the interest, late interest, administrative fees and late fees your money lender charges cannot amount to more than $10,000 in total.
How to Differentiate Licensed Money Lenders in Singapore From Unlicensed Lenders or Loan Sharks
There are many misconceptions surrounding licensed money lenders in Singapore. How exactly do they differ from illegal lenders? Here's how you can recognise a licensed money lender in order to safely obtain the financial assistance you need.
Licensed Money Lenders in Singapore are Regulated by the Government
In Singapore, all licensed money lenders are regulated by the Registry of Moneylenders and are subject to the Moneylenders Act. Every licensed money lender in Singapore is listed in a comprehensive official registry.
This means that all activities conducted by licensed money lenders are fully legal, so you can expect safety and transparency when dealing with them.
Licensed Money Lenders Have Caps on Interest Rates and Loan Amount
According to the Moneylenders Act, licensed money lenders cannot charge interest rates that are higher than 4% per month. Also, your maximum loan value is capped at six times your monthly income, provided that you make at least $20,000 per year.
On the other hand, loan sharks and unlicensed lenders have no such limits and will charge much higher interest rates.
Licensed Money Lenders Operate by Strict Conduct Regulations
Licensed money lenders are not allowed to solicit you through SMS and phone calls or contact you on social media. They will also have a legal, physical address where your documents are verified before your loan is approved.
Moreover, a code of conduct requires that licensed money lenders are ethical, respectful and transparent at all times. Unlike loan sharks, a licensed moneylender will never threaten, harass or intimidate its borrowers.
Here at Quick Loan, you can look forward to excellent service from our friendly and helpful loan officers. With our seamless application process and low interest rates, you'll also enjoy better peace of mind. As a licensed money lender in Singapore, we're ready to support you in your financial journey. We welcome you to explore the right loan for your needs today!
How You Can Identify Online Loan Scams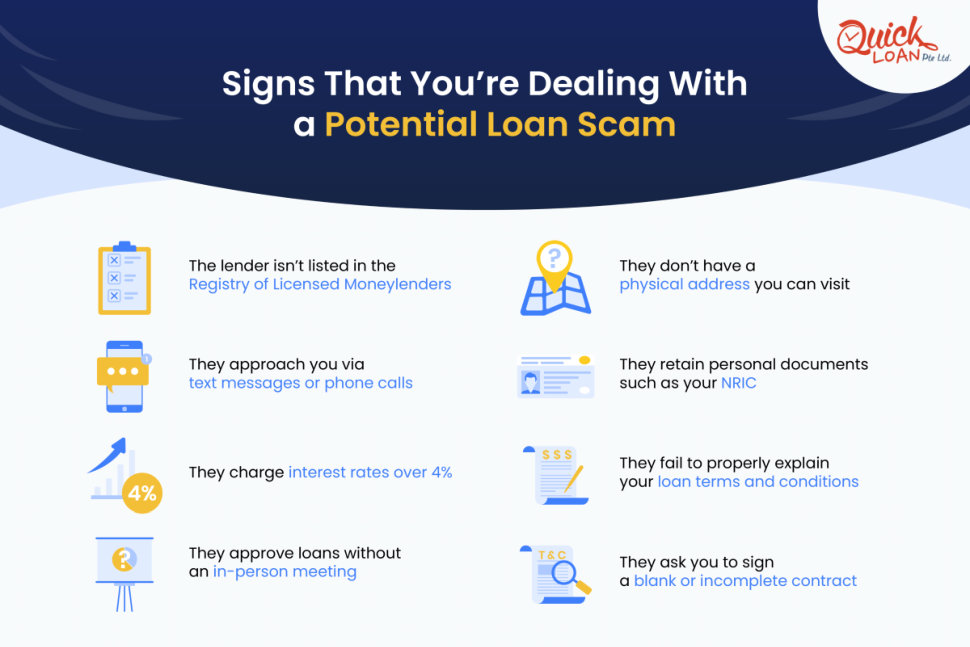 With more and more reports of unlicensed entities posing as licensed money lenders, it can be challenging to distinguish between the real deal and a potential loan scam.
Predatory lenders and scammers are increasingly adept at creating fake websites, falsifying credentials and soliciting loans through unauthorised methods. Fortunately, there are signs that you can watch out for to ensure that you're dealing with a licensed money lender:
Check the Registry of Moneylenders
A licensed money lender will always be listed in the Registry of Moneylenders. If the lender you've encountered doesn't appear on this list, it's very likely that they're unlicensed or a loan shark. We encourage you to report any unlisted money lenders that you come across online.
Advertisements via Text Messages and Social Media
Have you ever received text messages, cold calls or Facebook advertisements trying to convince you to sign up for a loan? These are loan sharks or unlicensed lenders, and we advise you to immediately block and report the numbers.
By law, licensed money lenders can only advertise their services on their own websites, in business or consumer directories, and within or outside their business premises.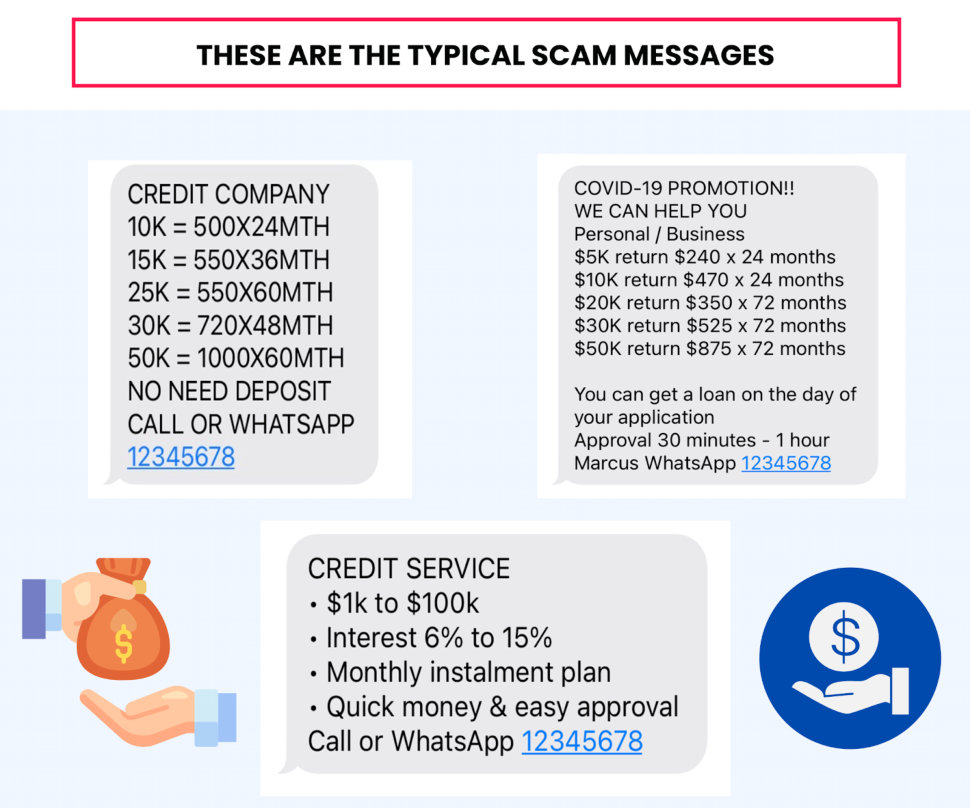 Be Aware of the Lender's Interest Rates and Fees
Loan sharks and unlicensed lenders may demand cash transfers or miscellaneous fees from you during the loan processing period—this is illegal.
A licensed money lender will only charge a stipulated 10% admin fee, which will be collected after your loan is disbursed. Moreover, the maximum interest rate that licensed money lenders can charge is 4% per month.
Look Into the Lender's Loan Approval Process
While many licensed money lenders nowadays offer convenient online application options, they're still legally required to conduct face-to-face verification at their business premises before approving and disbursing your loan. This also means that you must visit their office in person to sign the loan agreement.
On the other hand, illegal lenders may offer a process where everything is carried out online, including signing of the loan contract and the receiving of cash. They may also be unable to provide you with a legitimate physical address.
Understand the Paperwork Involved
A licensed money lender will provide you with a complete copy of the loan contract upon approval. They are also required to explain all the terms of your contract clearly, and in a language you understand.
Legitimate money lenders will also supply borrowers with a copy of their loan contracts after the agreement has been signed and receipts within 7 working days after payment has been made.
For more information on loan scams, you may refer to the Singapore Police Force advisory.
Types of Loans Offered at QuickLoan Pte Ltd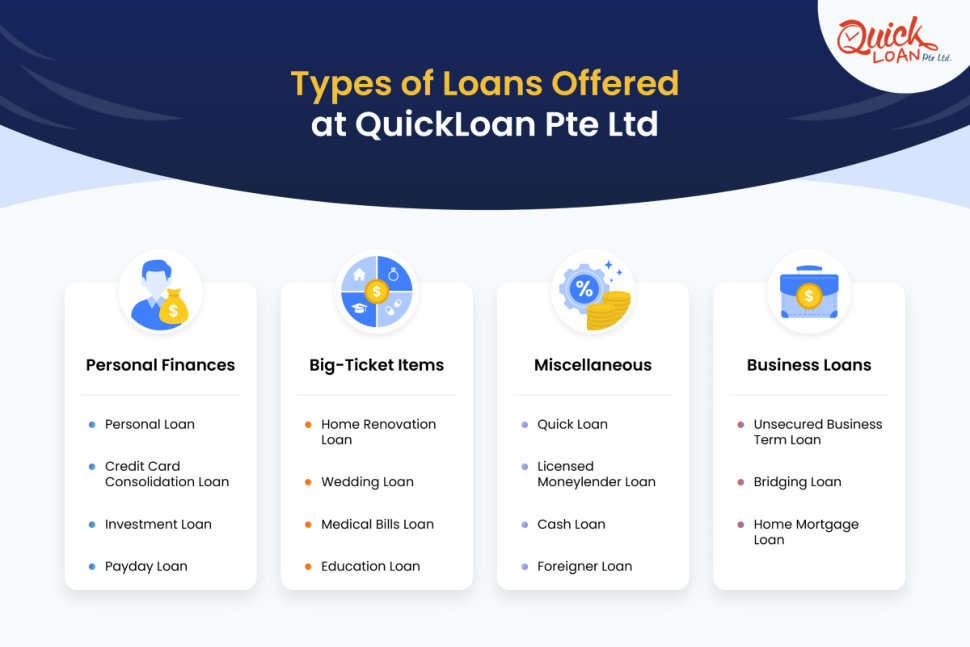 As the best licensed money lender in Singapore, Quick Loan is proud to provide a wide selection of fast, accessible and affordable loans to support your financial needs.
From personal loans to wedding loans, you can look forward to getting your cash within 30 minutes! We also help provide you peace of mind with low interest rates and loan repayment plans designed for your unique financial situation.
Our range of personal finance and miscellaneous loans can offer you fast funds when you need extra cash to tide over unexpected situations or boost your short-term cash flow.
Additionally, our loans for big-ticket items can help you fund a home renovation project, higher education plans or even cover your medical bills.
We also offer business loans that can help you get your start-up off the ground, upgrade your equipment and premises, or seize new opportunities.
Applying for a Loan With Quick Loan
Interested in applying for a loan with us? In three simple steps, our streamlined application process will allow you to get your funds in as fast as 30 minutes.
1. Submit Your Application
You can do this through an online application on our website or via WhatsApp. We also welcome you to visit our physical office to start your loan application.
After submitting your application online, our friendly customer service agent will get in touch with you and schedule an appointment to visit our office at your convenience.
We are open Mondays to Fridays from 11am to 8pm, and on Saturdays from 12pm to 5pm.
2. Attend a Free Consultation
We'll invite you to a free in-person consultation at our office. Here, you'll present all the necessary supporting documents, and we'll go through the terms of your loan.
Your dedicated loan officer will help you fully understand your loan contract, interest rate and other vital information.
3. Receive Your Cash
Once you're happy with the conditions of your loan, you can sign the agreement and get your funds on the spot.
Ready to take a loan with us? Get started here!
What Documents Will I Need to Provide?
All licensed money lenders in Singapore will request you to present some supporting documents when you apply for a loan. These documents will help us evaluate your application, determine your loan eligibility and arrive at a suitable interest rate for your needs.
At Quick Loan, we require the following documents from Singaporean and PR borrowers:
NRIC or SingPass
Proof of residence (bills or tenancy agreement)
Payslips for the past three months
Bank token
Foreign applicants must present their
S Pass, Employment Pass or work permit
Passport
Employment contract
Staff card
Proof of residence (bills or tenancy agreement)
Payslips for the past three months
Bank token
What Should I Do After My Loan is Approved?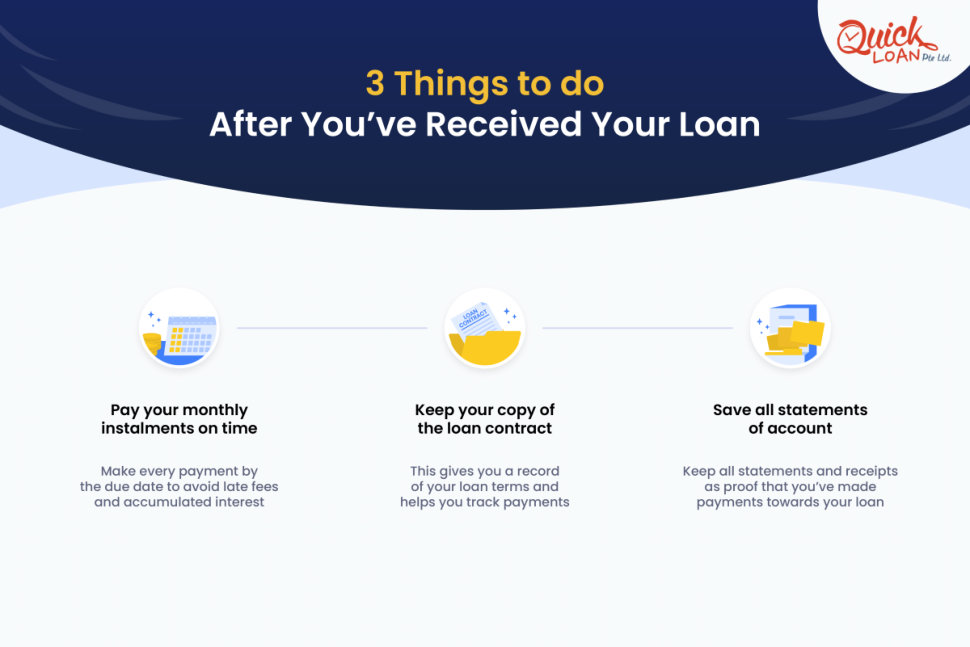 Once your application has been approved and you've received your principal loan amount, be sure to keep a copy of the loan contract. This gives you a clear record of your loan terms including your interest rate, and helps you keep track of your repayment schedule.
Next, you should save all statements of account (SOA) and receipts as proof that you're making all the necessary payments promptly.
Finally, pay your monthly instalments by the assigned due date. This will ensure that you avoid any late fees and accumulated interest that may add to your financial strain.
Secure a Personal Loan From Singapore's Most Trusted Money Lender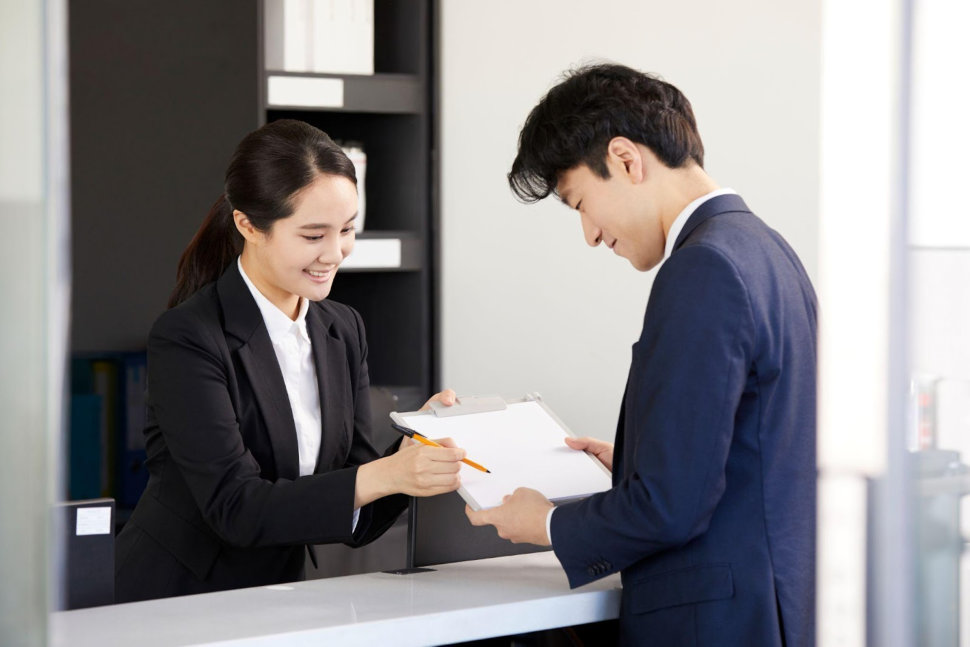 With our simple and easy application process, you can look forward to fast cash from Quick Loan within 30 minutes. We also offer low interest rates and affordable repayment plans tailored to your financial needs. Get the financial assistance you need today with peace of mind guaranteed!